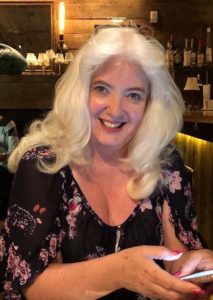 Words are magic. Creating people, worlds, and emotions in fiction, or bringing true-life situations to light in non-fiction is a challenging art. Even as a child I created people and stories in my head. Now they've found a home on paper.
My fiction stories consist of those telling of great loves. Common, ordinary people who find that special person meant just for them. There are no odds too great to overcome these lovers. I believe in true love and enjoy reading and writing about it.
My non-fiction also tells about people. How they do things, why they do them, and how we can share in each other's experiences. I hope you enjoy your trip here and will return again soon. I'll keep you posted on when you can find my work on a news stand or bookshelf near you.

Angel Smits shares a big yellow house, complete with gingerbread and a front porch swing in Colorado with her family and Maggie, the border collie mix.  Winning several writing contests seemed like an amazing pinnacle—until her first book hit the shelves! She writes paranormal romance for Imajinn/Belle Books, Contemporary Romance for Harlequin and now the Dogwood Series.  She also writes non-fiction in the senior care world.  Her social work background inspires her characters, while improv writing allows her to torture them. It's a rough job, but someone's got to do it.