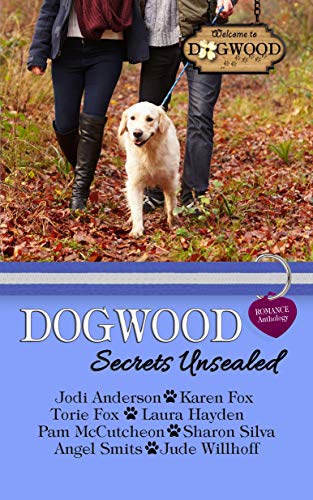 No Place Like Home
When a time capsule is inadvertently unsealed, its contents reveal a unique look at Dogwood's past. The relics not only uncover the past, but will affect the present and the future of Dogwood.
The short stories include:
"The Book of Matches" by Pam McCutcheon
A scrapbook of the first matches seems to imply Match isn't 100% accurate. Can an eager reporter save the town's reputation—and his own—with the help of an attractive historian?
"Once Upon a Hero" by Sharon Silva
Lacy Morgan follows the clues found in an old Mason jar from the time capsule to unravel a mysterious message hidden since World War II. As she and Chaney Roberts dig into her family's past, they discover a love story like no other.
"Small-Town Treasure" by Torie Fox
Handywoman Louisa Clarke can do pretty much anything: fix a fan, unclog a drain, or build a wall—including the one around her heart. But when the town's time capsule reveals a match to her cherished heirloom necklace, can she keep her walls up in the face of a charming jewelry appraiser who seems as interested in her as in her jewels?
"Royal Exposure" by Karen Fox
When Shelley Malloy examines the items from the newly opened time capsule, she never expects to find an old photo of a prince visiting Dogwood and his sister who looks just like Shelley. She's determined to find out if she's related to the prince and newspaper reporter Heath Turner has signed on to help her. Only one problem—is he interested in her or the article he could get?
"Chasing Mayberry" by Jodi Anderson
When Grady Hamlin accidentally rear-ends Trixie McDevitt, she is charmed by the handsome doctor. But how can she risk her heart with a man who might be leaving when her focus is on her dream of opening her own pie shop? Especially when she learns that the time capsule might have a clue to her family legacy.
"Penny's Promise" by Jude Willhoff
A haunting poem from the past, a hidden secret, and a missing item from the time capsule bring Josie Evans and Henry Winters together. Will their search for answers to the mystery give them a second chance at romance?
"A Letter from George" by Laura Hayden
Lost, stolen, or strayed? Several artifacts are missing from the time capsule display and someone has put fakes in their place. It'll take the expertise of Cole Lattimer and the inventiveness of Miranda "Randi" Moon to track down the culprit and recover the missing items.
"No Place Like Home" by Angel Smits
When Amelia Reade returns home to small-town Dogwood after losing her big-city job, will her past continue to haunt her, or will Mitch Callahan's open arms give her the home she's always desperately wanted?
Dogwood, Colorado: where the best things in life are rescued.
Order Now!
Other Books in "Dogwood Series"