Addie Gets Her Man
Chair at the Hawkins Table, Book 6
Harlequin Superromance
The one thing she's been missing in life?
The last time Addie Hawkins loved a man, it ended tragically. Years later she's doing fine, even managing to ignore the hole in her heart—mostly. But things start to unravel when widower Marcus Skylar and his teenage son, Ryan, move into her old childhood home.
Being around them forces Addie to face past decisions while also bringing her a sense of healing she never thought possible. Yet even if Addie is ready to give love another chance, can she convince Marcus that family is worth the risk of letting go of his pain and opening his heart again?

Last Chance at the Someday Café
A Chair at the Hawkins Table, Book 5
Harlequin Superromance
How many secrets can one man really have?
Tara Hawkins may be the baby of the family, but she's ready to prove to her siblings she can make it on her own. And she's betting everything on the success of her diner. Trucker Morgan Thane quickly becomes a repeat customer…and a tempting distraction she can't afford. The energy between them is overwhelming, yet Tara wonders just how she can trust a man who is hiding so many secrets—a man who's almost out of hope. When she discovers his heartbreaking reason for being in Haskins Corners, her feelings for him only grow. And the deeper she falls, the closer Tara comes to losing her dream and her heart.

Perfect Fit
in the "Falling For You" Anthology
A Chair at the Hawkins Table, Story 4.5
Perfect Fit by Angel Smits:
She never forgot her first love…and though he never measured up, neither did he.
The Ballerina's Stand
A Chair at the Hawkins Table, Book 4
Harlequin Superromance
Love reaches far beyond words
When she was growing up, a deaf child in foster care, dancing gave Lauren Ramsey a sense of belonging. Now she's a prima ballerina with her own dance studio; everything's finally going right. And then lawyer Jason Hawkins turns up and drops a bombshell: Lauren's unknown father has left her a fortune. Well, Jason can take that money and shove it. Except…he can't. Once he sees Lauren dancing, he can't stay away…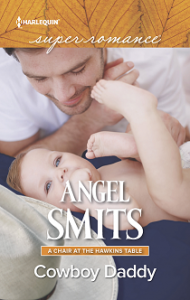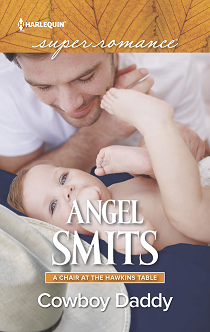 Cowboy Daddy
A Chair at the Hawkins Table, Book 3
Harlequin Superromance
He loves them too much to stay.
Lane Beaumont has always loved Amanda Hawkins. If his life weren't such a mess he'd want much more than their current on-again, off-again relationship. But Amanda deserves a better life than he can offer. So when she gives birth to their son, Lane does the right thing and walks away.
Amanda should be devastated. Except his reaction doesn't make sense. The Lane she knows would never turn his back on her or his responsibilities. Plus, she saw that cowboy's heart melt when he held their son. Something else is standing in the way of their happiness and she won't stop until she finds out what.

The Marine Finds His Family
A Chair at the Hawkins Table, Book 2
Harlequin Superromance
His most important mission.
US marine DJ Hawkins is on a mission to locate his son's mother and discover why she abandoned the boy. To DJ's surprise, Tammie Easton is easy to locate, and it soon becomes clear she has her reasons for staying away. But can he protect her from her past? Determined to ignore the surge of renewed attraction, he vows to help her.
Unraveling her life is intense and DJ respects the woman she's become…even as he catches glimpses of the girl he fell in love with years ago. Now, DJ will do anything to keep Tammie safe for his son…and himself.

A Family for Tyler
A Chair at the Hawkins Table, Book 1
Harlequin Superromance
Family sticks together, no matter what!
Wyatt Hawkins takes care of his family. So when he discovers he has a nephew, he vows to be there for Tyler until his father returns from overseas.
Too bad the smart—and beautiful—judge in their custody case is interfering with Wyatt's intention. He has to convince Judge Emily Ivers he's good for Tyler! But she seems to have strong feelings about a single rancher raising a child and Wyatt can't help but wonder why. Is it the attraction between them? Or maybe it has something to do with the sadness in her eyes.
Maybe his nephew's heart isn't the only one that needs healing…

Seeking Shelter
Harlequin Superromance
For Amy Grey, home has always been Rattlesnake Bend, Arizona, population 423. It's safe place to raise her daughter, Katie. Then free spirit Jace Holmes rides his motorcycle down Main Street, rumbling through Amy's carefully ordered life with news about the father she never knew and stirring up questions about her family's past. The best thing for all would be if Jace kept on riding.
Too bad Katie immediately tags Jace as a potential daddy. Sure, there's no denying the attraction between Amy and Jace, but her life is here and his, well, isn't. Yet the longer Jace is in town, the more her visions of tomorrow match Katie's. But can Amy open herself up again? Because opening herself to change is the one way to convince Jace to stay.

A Message for Julia
Harlequin Superromance
Trapped in a mine following a cave-in, Linc Holmes sees his life more clearly than ever before. There are wrongs he needs to right and good times he wants to repeat…again and again. It's no surprise that most of those experiences are wrapped up in Julia—the woman he's loved forever.
Funny how with nothing but time on his hands, he has suddenly found all the words she needs to hear. He puts pen to paper and writes them down, so he won't forget a single one when he sees her again.
Because this is one message he intends to deliver in person.

Raging Spirits
ImaJinn Books Paranormal Romance

Until Death Do Us Part…
David Lorde meant those words when he said them, but now that his wife is dead he's ready to rebuild his life. She has other plans. Can he escape her spell that transforms him into unexpected creatures—or will he lose his humanity and become one of the beasts forever?
Clarissa Elgin lives with psychic visions and when she "sees" a man die, she knows she must find him and warn him. But when she finds David Lorde, there's something dark lurking within him. Despite her desire for the man, his secrets remind her too much of the past that nearly destroyed her.
Will Clarissa and David succumb to the sinister magic that threatens both their sanity and lives–or will their love be strong enough to beat an eternity of evil?
(Sequel to MEMORY WHISPERS)

Memory Whispers
ImaJinn Books Paranormal Romance
Recurring, sensual dreams haunt Faith McCoy. The daughter of a minister, she's uncomfortable with the sexy images. While on a trip to the colorful gambling town of Cripple Creek, Colorado, she is shocked and frightened to find not only the room in her dreams, but the man whose touch haunts and excites her. She might consider a modern-day relationship if it weren't for the fact that the room—and her dream—are set in a former brothel.
Casino owner Cord Burke has his own dreams of the beautiful woman who seduces him. He never expected her to be real, but when he meets Faith, he's drawn to her and the past that seems to threaten her. He refuses, however, to be drawn to the forevers and promises she represents. He's been burned too many times in life to consider settling down. Suspecting that they may have lived and loved in a prior life, they face the ghost of an old enemy.
But how can they beat a ghost who has no fear—not even of death . . .